For the perfect holiday or well earned break away, we love nothing better than going to our beautifully appointed, luxury apartment in the picturesque Mallorcan resort of Puerto Pollensa, which is also available for our family and friends to rent.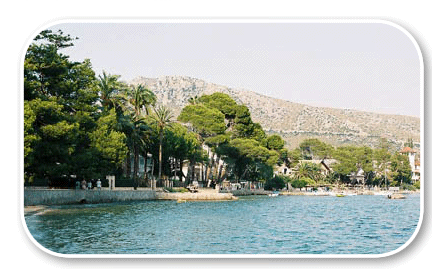 Puerto Pollensa
This pretty, family resort with its distinctive horseshoe shaped bay and magnificent Tramuntana mountain range attracts holidaymakers time and again.
Once a sleepy fishing village, Puerto Pollensa masterfully balance the modern requirements of its tourist population with the traditional way of life that its townfolk have followed for centuries.
Families congregate on warm evenings in the lively town square to mix with tourists as they dine alfresco at the many restaurants that fill the sidewalk. Couples take romantic walks along the famous, pedestrianised Pine Walk stopping at the numerous cafes to take a drink, look out to sea and admire the views. And children play happily on the perfect white beach and in the warm shallow sea, so crystal clear you can see shoals of fish swimming around your feet